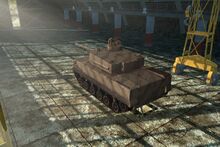 History
The 2S31 Vena (Russian: 2С31 Вена) is a Russian self-propelled 120 mm mortar/cannon. "2S31" is its GRAU designation. It is mounted on the chassis of the BMP-3 infantry combat vehicle. It was developed by Joint Stock Venture "Plants of Motovilikha" (Russian: ОАО "Мотовилихинские заводы"). The weapon system is equipped with a digital automated fire control system, navigation system, and optical/electronic reconnaissance and target acquisition system. Mortar mines (up to 7.2 km range) and cannon shells (up to 13 km range) can be used, including guided, HEAT, smoke, and thermobaric munitions. The total mass of the system is 19.1 tons.
In Game
The 2S31 Vena is an improvement on the 2S23 Nona-SVK mainly in terms of damage statistically it has the same stats as the Nona though its health is lower and higher damage. It also is one level higher than the Nona which allows it to face mostly the same targets the Nona could face.
Pros and Cons
Pros
One of the fastest reload of any artillery unit
High manuverability
High damage
Cons
Poor armor
Poor HP
Cannot defend itself at close ranges
Cannot engage aircraft
High profile
Community content is available under
CC-BY-SA
unless otherwise noted.