History
The 9P139 fighting vehicle "Grad-1" is based on the chassis of the 122.4 mm self-propelled howitzer 2S1 Gvozdika. In the rear of the machine on a rotary pursuit was installed a launcher with 36 runners. The main purpose of the machine is acting within the armored corps. It is armed with 36 unguided missiles. The full salvo time was eighteen seconds, and the firing range was from 1.5 to 15 kilometers. The time needed to acquire a target was from two to three minutes. The range of weapons included the 3M16, POM-2 9M28K, PTM-3 9M28S, and 9M28F. The mass of the projectile core is 57 kilograms, and a full reload cycle took from twelve to sixteen minutes.
Ingame
The 9P139 Grad-1 is the main introduction of the Russian Rocket artillery class. The Grad-1 has light armor yet a high rate of fire though it operates based on a clip system of around 12 rockets so whenever a round of Rockets are spent the reload to replace all the rockets would be extremely slow unlike general howitzer based artillery.
Pros and Cons
Pros
Fast fire rate
High splash
Fast manueverability
Low profile for artillery
Cons
No armor
Cannot engage enemies at close ranges
Cannot engage aircraft
Very little health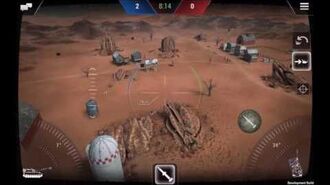 Community content is available under
CC-BY-SA
unless otherwise noted.