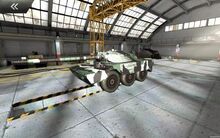 History
The AMX-10RC is a wheeled and heavily armed version of the AMX-10P combat vehicle. The AMX-10RC should not be confused with the AMX-10P; they share automotive components but otherwise have completely different battlefield roles. The AMX-10RC is amphibious and has very good mobility. It is usually used for reconnaissance missions in dangerous environments or for fire support. Initial work on the AMX-10RC began in 1970 with production beginning in 1976, and the first production vehicle was delivered in 1981 to the 2nd ''Regiment de Hussards'' in Sourdun. The vehicle features a powerful GIAT 105 mm gun mounted in a welded aluminium turret. The turret also serves to house three crew member while the driver sits in the front of the hull, and the COTAC fire control system is provided for gun aiming. All six wheels are driven, and the AMX-10RC uses skid steering to turn the hull.
In Game
The AMX-10RC is a often overlooked as it's stats are considered not to "special" considering the other french line, the MBT line has the AMX-40 and Amx-56 Leclerc plus there are other similar level vehicles that can perform thier role better than the AMX-10RC. Though despite this the AMX-10RC if used effectively can be extremely potent to the opposition, the AMX-10RC can be used suprisingly effectively if the player knows how to flank and ambush enemy vehicles. Also a plus is due to it's rarity on the battlefield enemy players will have a hard time of figuring out it's play style. The AMX-10RC can be used as a hard counter to the Type 82 meta. The AMX-10 has larger health, faster speed, better reload, and turret rotation its lower damage though is still effective against the type 82's soft armor. Unlike the other wheeled vehicles AMX-10RC still retains tank controls and can perform tank turns, this also means that if the vehicle was to make a turn while going top speed it would heavily slow down the momentum.
Pros and Cons
Pros
Powerful engine (Can literally be powerful enough to push tanks)
Fast turret rotation
High health points
Modest gun
Has an Active Protection System
Already Amphibious
Tank controls allow for less frequent drifts
Cons
Weak armor
Tank controls heavily slow down the vehicle when turning.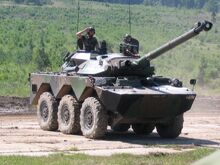 Community content is available under
CC-BY-SA
unless otherwise noted.