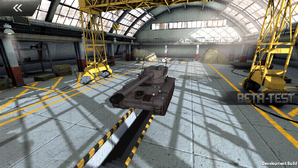 History
The AMX-13 is a French light tank produced from 1953 to 1985. It served with the French Army, as the Char 13t-75 Modele 51, and was exported to over twenty-five other nations. Named after its initial weight of 13 tonnes, and featuring a tough and reliable chassis, it was fitted with an oscillating turret built by GIAT Industries (now Nexter) with revolver type magazines which was also used on the Austrian SK-105 Kürassier. Including prototypes and export versions there are over a hundred variants including self-propelled gun, anti-aircraft systems, APCs, and ATGM versions. Total production of the AMX-13 family is approximately 7,700 units, around 3,400 of which were exported.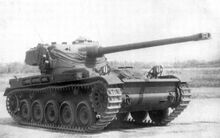 Combat Roles In-game
The AMX-13 is currently one of the fastest tanks in the game. With full speed upgrades, it goes over 60 km/h. This speed allows it to easily outmaneuver and avoid being shot by slower, less agile tanks. One tactic features circling a slower tank faster than its turret can rotate while firing shells into the enemy, free of being shot oneself. This is called the "Circle of Death" tactic. Like the M50 Ontos, it has a six shot magazine and fairly low accuracy (not nearly as bad as the accuracy of the Ontos though), so don't expect to be able to snipe very well with it (but it is still possible, unlike the Ontos where it is very difficult). The AMX-13 is better suited for and dominates close quarters matches and Capture the Flag games.
Tips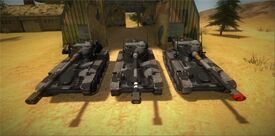 It is best to use HEAT ammo when top tier or not yet maxed, as this ammo type can deal the most damage. It is also recommended to upgrade the engine, as it will increase the AMX-13's speed and ability to avoid more shots. Upgrading the gun is recommended next, as it will improve the penetration of the gun. Crew Safety is recommended after that, as the AMX-13 has a low health pool since it is a light tank.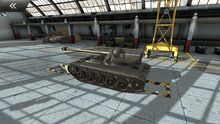 Pros & Cons
Pros:
Great speed, agility, and mobility, ideal for flanking and ambushing
Fast reload thanks to the magazine, powerful burst damage
Magazine reload time is not bad for its level
Low profile, somewhat hard to hit at long range
Turret rotation is fairly fast (though not too impressive for a light tank)
Cons:
Low health pool and weak armor, as it is a light tank
Gun depression and elevation are lacking
Not very effective while bottom-tier, as penetration becomes less potent
Not very good against terrain, especially for a light tank
Modules get damaged easily since the tank is small
Community content is available under
CC-BY-SA
unless otherwise noted.