History
The AMX-50 120 was a tank based off the chassis of the AMX M4 and was called the AMX-50 Foch after Ferdinad Foch. It was armed with an 120 mm gun was designed to support the smaller version AMX-50 100. However with economic problems, it was cancelled. The AMX-50B is a further development of the AMX-50 120, that had several of the flaws of the AMX-50 120 fixed.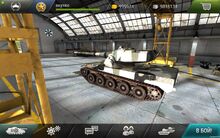 The tank was armed with an 120 mm gun in response to the perceived threat posed by the Soviet heavy tanks, such as the 
IS-3
 and the 
T-10
. To accommodate the larger gun, an enormous turret was fitted; originally planned in a conventional form, eventually it was decided to make it of the oscillating type. The turret armour was increased from the AMX-50-100 as well. Optimistically, it was at that time projected that the maximum speed could eventually be increased to 65 km/h. In the end, in total only five complete AMX-50 prototypes would be constructed, including the final hull.