History
The AMX-50 120 was a tank based off the chassis of the AMX M4 and was called the AMX-50 Foch after Ferdinad Foch. It was armed with an 120 mm gun was designed to support the smaller version AMX-50 100. However with economic problems, it was cancelled. The AMX-50B is a further development of the AMX-50 120, that had several of the flaws of the AMX-50 120 fixed.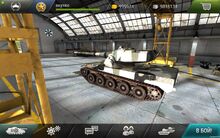 The tank was armed with an 120 mm gun in response to the perceived threat posed by the Soviet heavy tanks, such as the 
IS-3
 and the 
T-10
. To accommodate the larger gun, an enormous turret was fitted; originally planned in a conventional form, eventually it was decided to make it of the oscillating type. The turret armour was increased from the AMX-50-100 as well. Optimistically, it was at that time projected that the maximum speed could eventually be increased to 65 km/h. In the end, in total only five complete AMX-50 prototypes would be constructed, including the final hull.
Ingame
The AMX-50B is a unique vehicle of the tech tree and offers decent armor and mobility to the battlefield. After moving on from the ARL-44 the AMX-50B is noticeably diffrent in terms of the gun, the AMX-50B mounts a 120mm gun and has a 4 shot drum as it is the first vehicle the player wil get which has a autoloader. Despite having an autoloader the DPM is really low as each shot the AMX-50B only does a quarter of damage and also after firing all 4 rounds the gun must take a long period of time to replenish them all. What also does not help is the low accuracy and shot spread which will waste alll your shots. Suprisingly the gun is good for taking out the opponent's gun and modules. The armor of the tank is comparable to medium tanks despite being a heavy tank and the mobility is relatively high. The piked nose on the tank added with the high mobility allows for the AMX-50B to be a good rammer.
Pros and Cons
Pros
High mobility
Good downwards gun depression due to oscillating turret
Angled frontal armor
4 clipped magazine
Cons
Poor DPM
Reloads slowly after firing the whole magazine
Mediocre armor
Poor accuracy
High profile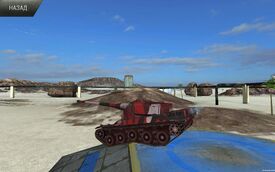 Community content is available under
CC-BY-SA
unless otherwise noted.