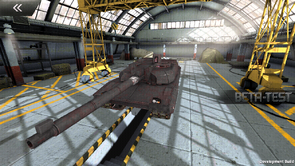 History
The AMX-56 Leclerc is a main battle tank built by GIAT, now Nexter of France. It was named in honour of General Philippe Leclerc de Hauteclocque who led the French element of the drive towards Paris while in command of the Free French 2nd Armored Division (2ème DB) in World War II. The Leclerc is in service with the French Army and the army of the United Arab Emirates. In production since 1991, the Leclerc entered French service in 1992, replacing the venerable AMX-30 as the country's main armored platform. With production now complete, the French Army has a total of 406 of the Leclerc MBTs and the United Arab Emirates Army has 388 of them. The current price of the AMX-56 Leclerc in 2011 is €9.3 million.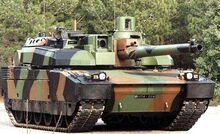 In-Game
The Leclerc is the last french MBT in the tree and is a monster at high levels. The Leclerc is commonly used at high matches due to its sufficient stats such as its steller armor, reload, and damage. The Leclerc is capable of absorbing a good amount of damage, and with spaced armor the odds of repelling HEAT shells are very high. The Leclerc is a brawling tank, and is best used in Deathmatch rooms on small maps as its accuracy is one main downfall of it. Demomap in particular is arguablly the Leclerc's best field for combat, since it has fewer obstacles than the Industrial map and so the Leclerc's lack of agility is less of a problem. The Leclerc is fully capable of taking on any MBT under those circumstances, and winning. The biggest drawback to the Leclerc is its lack of HE rounds making it a challenge for the Leclerc to take on lightly armored opponents like the K2 being one of the few tanks that can stand toe to toe against it.
Pros and Cons
Pros
Great spaced armor, reliably repels HEAT shells
Amazing speed, though it takes a while to reach this speed
Fast reload and reasonable damage give it one of the best DPMs in the game
Fast turret rotation speed
Cons
Cannot use high explosive
Doesn't have an active protection system
Community content is available under
CC-BY-SA
unless otherwise noted.