History
The ARL-44 is a French heavy tank that was produced just after the end of World War II. Not many of these tanks were built, only 60 in fact. The tank was replaced relatively quickly in the French army, being replaced by the American M47 Patton medium tank. It was armed with a 90 mm main gun and had up to 120 mm of armor. The ARL 44's equipped the 503e Régiment de Chars de Combat stationed in Mourmelon-le-Grand and before the end of 1950 replaced seventeen German Panther medium tanks used earlier by that unit. In service, the ARL-44 was at first an unreliable vehicle, as the brakes, the gear box, and the suspension were too frail. But, a special improvement program remedied most of these shortcomings. The ARL-44 made only one public appearance, this being ten vehicles participating in the Bastille Day parade on 14 July 1951. When the American M47 Patton became available, which also had a 90 mm gun, the ARL-44 was phased out in 1953 and used as targets instead. The rumor that most ARL-44s were exported to Argentina is unfounded.
In-game Usage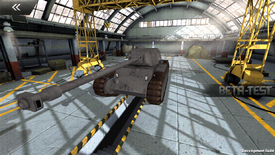 Use the ARL-44 as support, and stay behind the other tanks when supporting support them. If targeted in a "Circle of Death", a good strategy is to get into some cover, or go against a wall to prevent the enemy from circling again. The sides are less armored, so try to cover those as much as possible. The gun can deal some good damage, and take out enemies relatively quickly.
Pros and Cons:
Pros: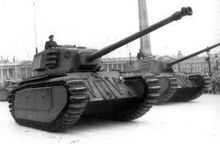 Surprisingly good speed for a heavy (though still nothing too special), acceleration is nice as well
Gun deals good damage and has good accuracy
Penetration values are impressive
Upper glacis is thick and greatly angled as well
Good gun depression
Cons:
Armor is horrible, especially for a heavy
Tall profile, large flat sides and rear or hull and turret can be easily penetrated
Large, exposed tracks are damaged easily
Turret rotation and hull traverse are slow
Rate of fire is fairly slow
Community content is available under
CC-BY-SA
unless otherwise noted.