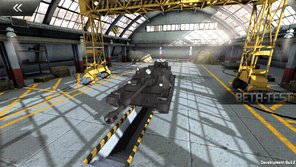 History
The ASU-85 is a soviet-designed airborne self-propelled gun of the Cold War Era. From 1959, it replaced the open-topped ASU-57 in service but was in its turn replaced by the BMD-1 from 1969. The Soviet Airborne Forces used the ASU-85 in airborne operations. Its primary role was light infantry support or assault, with limited anti-tank capability. Each Airborne Division had one assault gun battalion with thirty-one ASU-85s, and the Polish had an equal number of them as well. During the Soviet-Afghanistan War, the ASU-85 was used in combat by the Soviet Airborne troops. In early 2016, Vietnam expressed interest in an upgrade package for the ASU-85 that includes more powerful powerpack that increases the road speed. Former operators of the ASU-85 are East Germany, Poland, and the Soviet Union. It is still currently operated by Vietnam.
In-game
The ASU-85 is a very effective vehicle on the battlefield if used properlu. It lacks a turret but has a great gun, it performs the best in small maps. The high DPM can take out enemies quickly, especially when the vehicle is top-tier and its medium armor protection protects it from incoming fire though it is advised to engage opponents at medium ranges to not risk a flank. When playing in larger maps, it is recommended to undertake sniping positions to engage vehicles at far ranges allowing it to dodge enemy fire and not risk beinh flanked.
Pros and Cons
Pros:
Very powerful gun, great DPM
Armor is respectable, also front armor is modestly sloped
Low profile
High top speed
Cons
Tracks get damaged easily
Horrible gun depression
Turretless
Community content is available under
CC-BY-SA
unless otherwise noted.