History
The BMP-3 is a Soviet amphibious infantry fighting vehicle that was the successor to the BMP-1 and BMP-2. The abbreviation BMP stands for Boevaya Mashina Pehoty (Боевая Машина Пехоты), literally meaning "Infantry Combat Vehicle". The BMP-3 saw action with the Russian forces during the First Chechen War and the BMP-3 also saw action with Emirati forces in the Saudi Arabian-led intervention in Yemen, where it is currently deployed. The BMP-3 entered production in the late 1980's. About 120 BMP-3 vehicles are in service with the Russia Army and over 900 have been exported to a number of countries, including the United Arab Emirates, Cyprus, Indonesia, Kuwait, and South Korea.
In-game
In-game, the BMP-3 has the same agility and is of similar level to the American M8 AGS, and is recommended to be driven in somewhat of a similar way to it. Its gun deals slightly unimpressive damage, but its reload time definitely makes up for It. It has spaced armor and can be a tough adversary if used properly. Its gun packs many good and bad secrets, such as the fact that it has the same gun elevation as an AA tank, and is excellent for taking out enemies that are somewhere up higher than where the BMP-3 is located as it doesn't have to back up very much in order to take shots at said enemies. Its weak spot is the fact that its gun depression is terrible, so it can't shoot very many tanks in head-to-head combat because they are actually below the cannon itself.
Pros and Cons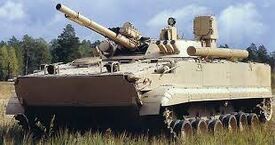 Pros:
Good health pool, excellent frontal spaced armor
Excellent DPM
Great gun elevation, comparable to AA vehicles
Very fast speed, fast turret rotation speed
Cons:
Pretty thin armor, spaced armor is only kind of reliable at sides and rear
Horrendous gun depression, close combat is especially difficult
Cannot use HEAT shell
Agility is lacking, which constrains speed
Community content is available under
CC-BY-SA
unless otherwise noted.