History
The BMPT "Ramka" (Russian: Боевая машина поддержки танков, Boyevaya Mashina Podderzhki Tankov, "Tank Support Fighting Vehicle") is a new Russian armored vehicle designed to support tank and infantry operations, primarily in urban areas. This vehicle is often nicknamed the "Terminator". A small number were delivered to the Russian Ground Forces for evaluation beginning in 2005.
In-game
When maxed, the BMPT is the highest-level vehicle in the game, reaching level 72. That is mostly due to its great survivability, having the ability to reach over 1300 armor and 1000 HP. Its agility is about average, and, as it is Russian, its reverse speed is slow. Its high armor coupled with reactive and spaced armor make HEAT almost unusable against it, and, other than the rear, it has no real weak spot. Its main weapon is its dual autocannon, which can be used alongside anti-tank missiles when such an upgrade has been bought. The BMPT can undertake multiple roles, as it can be both a fire support vehicle and an anti-aircraft vehicle. The downside of the autocannon is that its DPM (damage per minute) is rather underwhelming, unlike other fire support vehicles that can take enemies out relatively quickly. But, while it wont kill fast, it wont die fast either due to its huge health pool and very strong armor. A very unique feature about the Terminator is that it is actually invisible from thermal sight, so it can be fairly difficult to spot it at night.
Pros and Cons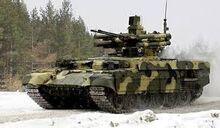 Pros:
Best statistical armor in the game, health pool is still huge as well
Excellent speed and agility, despite being so heavily armored
Fast turret rotation speed
High DPM
Equipped with ATGMs
Cons:
Community content is available under
CC-BY-SA
unless otherwise noted.