History
The BM Oplot is a Ukrainian modernization of the Soviet
T-80
UD. It's also called the T-84. The BM Oplot is overall a very unique tank. Packed with a superb power-to-weight ratio, it comprises excellent maneuverability. The first T-84 prototype vehicle rolled out in 1994, and in the same year it was decided to build several more vehicles. They were subjected to extensive company and army trials. After successful completion of the extensive trials program in the late 1990's, the T-84 MBT entered service with the Ukrainian Army in 1999. On 24 August 2000, ten T-84 MBTs took part in the parade dedicated to the 10th anniversary of Ukraine's independence. In 2014, the T-84 first saw action during the War in Donbass. In September 2011, the Malyshev Plant, based in Kharkiv, announced plans to produce the first batch of five Oplot-M tanks for the Thai Army by the end of the year. Under the contract, the Ukrainian company will make forty-nine tanks worth over USD 200 million. In October 2009, Ukrspetsstroi plans to sell to Georgia twelve modern T-84 BM Oplot tanks, among other weapons.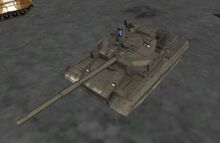 In Game Use
The T-84 BM Oplot's alpha damage is decent, but coupled with the average reload, its DPM is relatively bad. Also important, It has a horrific gun depression, so most low profiled tanks are a little challenge to shoot at. This means that a certain distance must be required in order to shoot at enemies, and aiming for weakspots is harder to accomplish. The gun elevation isn't marvelous either, but it isn't horrible. In the right hands, it's a formidable opponent. As the health and armor pool are relative high, this tank repel shots frequently. Using the speed to circle around your opponent, and using the back-speed to escape or as tactical movement from your enemy. The T-84 BM Oplot is comptable with most of the shell types.
Pros and Cons:
Pros:
Excellent all round armor, health pool is not low either (unlike the T-90)
Very fast speed, amazing agility and mobility (some of the best in the game)
Great penetration values, HEAT shells frequently go through spaced armor with ease
Fast turret rotation speed, reverse speed is also awesome (unlike any of the Soviet/Russian main battle tanks)
Cons:
DPM is low, one of the worst out of all of the top level main battle tanks
Laughable gun depression, some of the worst in the game (even worse than any of the Soviet/Russian main battle tanks)
Huge cupola weakspots, very easy to shoot
Community content is available under
CC-BY-SA
unless otherwise noted.