History
The C1 Ariete is the main battle tank of the Italian Army, developed by a consortium formed by Iveco-Fiat and Oto Melara (aka CIO, Consorzio Iveco Oto Melara). The chassis and engine were produced by Iveco, while the turret and fire-control system were supplied by Oto Melara. The vehicle carries the latest optical and digital-imaging and fire-control systems, enabling it to fight day and night and to fire on the move. Six prototypes were developed by 1988, which were subject to intensive testing the following year during which the vehicles traveled a combined 16,000 kilometers. Deliveries were first planned for 1993, but in fact took place in 1995 due to delays. Final delivery occurred eight years later in August 2002.
Ingame
High reversing speed is good when playing capture the flag so always show the more armored front of the C1 Ariete to enemies. Prevent the enemy from circling around the tank by turning the tank in combination with the turret, as the sides are quite weak besides the spaced armor. The Ariete is a good sniper (with APDS ammo) because it has fairly good accuracy. In the Deathmatch game mode, a good strategy is to drive past enemies to get behind them and shoot the engine to take them out quickly.
Pros and Cons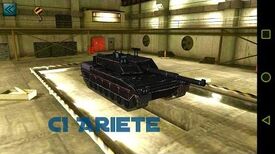 Pros:
Great speed, agility, and mobility
Very powerful gun, alpha damage is third highest out of all top level MBTs and maxes a lower level than most of them
Frontal armor is great at repelling HEAT shells, due to the spaced armor
Decent spaced armor on sides and rear
Cons:
Complete absence of reactive armor, passive armor is also subpar
Penetration values are lacking, HEAT shells almost always repel off of spaced armor
Community content is available under
CC-BY-SA
unless otherwise noted.