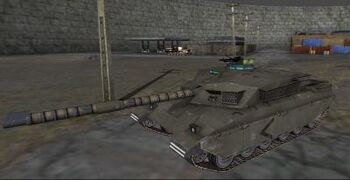 History
The FV4030 Challenger 1, was the main battle tank of the British Army from 1983 to the mid-1990's, when it first succeeded the FV4201 Chieftain and was superseded by the FV4034 Challenger 2. It saw action in the Gulf war and is also currently used by the Jordanian Armed Forces as their main battle tank after heavy modifications. The variants for the Jordanian military are upgraded using an unmanned turret called the Falcon Turret. The Challenger 1 also holds the record for the longest tank on tank kill.
In-Game Use
It has decent armor and health due to an earlier form of Chobham armor. In addition to this, it has a formidable main armament. The downside to the Challenger 1 is its large size and lower-than-average speed, which is taken advantage of by fast, nimble tanks. To handle this tank well and use it effectively on the battlefield, one needs to be an experienced player. The armor is fairly strong at the front, and can absorb a good amount of damage. It is best to keep the front of the tank to the enemy with no angling at all, as the turret is already pre-angled.
Pros and Cons
Pros:
Decent frontal armor
Fairly fast reload for a British tank
High accuracy
Cons:
Health pool is fairly low for an MBT, armor is not thin but is useless at sides and rear
DPM is very underwhelming, some of the lowest for its level
Pretty slow as well, only a bit faster than the Challenger 2
Community content is available under
CC-BY-SA
unless otherwise noted.