History
The Panhard ERC 90 (Engin à Roues, Canon de 90 mm) is a French six-wheeled armored all-terrain vehicle which is highly mobile and amphibious with an option of being NBC-proof. While various models were tested, only two versions of the ERC were developed and produced: the Lynx and the Sagaie. The main difference between the two versions is the type of turret and 90 mm gun fitted. Sagaie is French for Assegai, a type of African Spear. The first production order for the ERC 90 F1 Lynx was in October 1979 from Argentina, for 36 units, to be used by Argentine Marines to patrol the long border between Argentina and Chile. The second large order was from Mexico, for 42 units in early 1981. Both countries ordered the ERC Lynx version because it could elevate or depress its 90 mm cannon over a wider range for operations in steep mountain terrain. This tank is still active in the present day.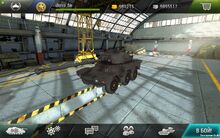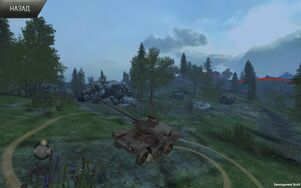 In-game
The ERC-90 is one of the first wheeled AFV's the players can get. The ERC-90 sees a drastic change in gameplay style from the AMX-13, though it still retains the light armor and high speeds. the ERC-90 is highly maneuverable and can easily flank most other vehicles. It is common to see it drifting, and is also equipped with a high damage per minute gun. A disadvantage to the agility is the light armor and low health points, and in addition to this the high speeds of the vehicle may cause occasional flipping, making it hard to control.
Pros and Cons
Pros:
High top speed due to the addition of wheels
Fast rate of fire
Decent damage per shot
Turret (unlike it's non turreted predecessor)
Small and short profile.
Cons:
Paper thin armor
Low Health points
Vulnerable to drifting (depends on situation) and flipping.
Community content is available under
CC-BY-SA
unless otherwise noted.