History
The FV101 Scorpion is a British armored reconnaissance vehicle. It was the lead vehicle and the fire support type in the Combat Vehicle Reconnaissance (Tracked), CVR(T), family of seven armored vehicles. Manufactured by Alvis, it was introduced into service with the British Army in 1973 and served until 1994. More than 3,000 units were produced and used as a reconnaissance vehicle or a light tank. It is a very unique looking tank. The Scorpion was or is used by the armed forces of Belgium, Botswana, Brunei, Chile, Honduras, Iran, Indonesia, Ireland, Jordan, Malaysia, New Zealand, Nigeria, Oman, Philippines, Spain, Tanzania, Thailand, Togo, Venezuela, and the United Arab Emirates. While Canada never operated the Scorpion, its original turret was married with the MOWAG Piranha I chassis to create the AVGP Cougar fire support vehicle, which was used by the Canadian Armed Forces.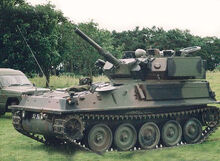 In-Game
The FV101 scorpion is a fast, fairly armed, and maneuverable light tank. This tank is ideal for low to medium level Capture the Flag matches as it is very quick and mobile, and holds the record for the fastest turret rotation in the game. Even though the gun is of a small caliber, it deals freakishly high damage and takes out some vehicles in only a couple shots or so. The health pool is also immense for a light tank, larger than that of some MBTs around its level range.
Pros and Cons
Pros:
Amazing health pool, especially for a light tank
Frighteningly powerful gun with weirdly great penetration values
Awesome speed and agility, circles around even light tanks with ease
Lightning-fast turret rotation speed, the fastest in the game
Cons:
Light tank armor with no spaced armor either, vulnerable to high explosive
Reload is fairly long
Even though the gun is powerful, the DPM is low
Tracks get damaged pretty easily
Community content is available under
CC-BY-SA
unless otherwise noted.