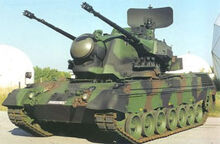 History
The Flugabwehrkanonenpanzer Gepard ("anti-aircraft cannon tank Cheetah", better known as the Flakpanzer Gepard) is an autonomous, all-weather-capable German self-propelled anti-aircraft gun (S  PAAG). It was developed in the 1960's and fielded in the 1970's, and has been upgraded several times with the latest electronics. It constituted a cornerstone of the air defense of the German Army (Bundeswehr) and a number of other NATO countries. 
In-Game Use
The Flakpanzer Gepard behaves similarly to a Leopard 1 in respects to speed and agility, but those are the only similarities to its tank counterpart. Instead the Gepard has 2 fast firing antiaircraft cannons which can be used to defend the skies against enemy air superiority, the main disadvantage of the Gepard is its guns which are useless against armored targets and lack of ATGMs. It is best to use the Gepard as a support role vehicle to suppress the enemy team and finish off weakened targets.
Pros
High rate of fire
Can travel across the map at high speeds
Useful for engaging enemy air support
Fast turret rotation
Cons
Mediocre armor
High profile
Poor damage
Community content is available under
CC-BY-SA
unless otherwise noted.