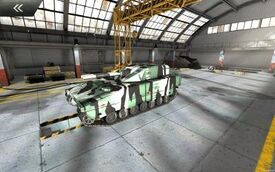 History
The Stridsfordon 90 (Strf 90) (Eng. Combat Vehicle 90 (CV90)), is a family of Swedish tracked combat vehicles designed by FMV, Hägglunds and Bofors in mid-1980's to early 1990's. The Swedish version of the main infantry fighting vehicle is fitted with a turret from Bofors equipped with a 40 mm autocannon, although export versions use smaller 30 mm and 35 mm autocannons. Developed specifically for the Nordic sub-arctic climate, it has very good mobility on snow and wetlands, while carrying and supporting eight (later versions down to six) fully equipped soldiers. Other variants of the CV 90 include Forward Observation, Command and Control, Anti-air, Armored Recovery, Electronic Warfare, and so forth. It is still produced and developed further by BAE Systems Hägglunds AB. The Grkpbv 90120 is a variant of the CV 90 that is fitted with the Advanced Mortar System, a cancelled project between Hägglunds and Patria.
In-game
The CV 90120t in 2.0 is erroneously named the Grkpbv 90120. In early testing builds the icon shown was actually the Grkpbv 90120, but changed on release to the CV for unknown reasons.
Community content is available under
CC-BY-SA
unless otherwise noted.