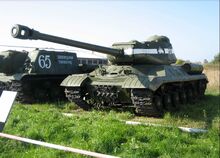 History
Short for the Iosif Stalin I (Named after the Soviet Dictator himself) The IS-1 was meant to be a replacement of the KV-1 and was introduced in October 1943 implememted design elements of the KV-85, KV-13, and later even the T-34/85 which caused it to be upgunned, 200-207 of these tanks were produced. The vehicle was manned by a crew of 4, used a 1x V2-12-cylinder engine (520 horsepower), top speed of 23 mph and had an 85mm gun. The IS-1 had limited sucesses in the second world war and was later replaced by the IS-2.
Not Yet Here
IS-1 is not ingame yet. It will most likely become a prize for the WWII league or a forum contest once implemented.
Community content is available under
CC-BY-SA
unless otherwise noted.