History
In 1948, the IS-7 heavy tank was developed. Weighing 68 metric tons, thickly armoured, and armed with a 130 mm S-70 gun, it was the largest and heaviest tank ever tested by the USSR. Although it was in many ways an innovative design, it was never accepted for mass production due to its cumbersome size and the very impractical layout of its fighting compartment, as well as the fact that if the tank were to cross over bridges, the bridge would collapse because of its tremendous weight. Thus, the armour protection could be enhanced without having to use excessive amounts of materials. However, if the pike nose was shot in at a sideways angle, it would not have a relative thickness high enough to ricochet the shell. In spite of its weight, it was easy to drive due to numerous hydraulic assists. Its armor could repel the shots of high tier German vehicles and also shots from a 130 mm gun.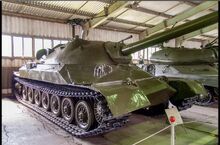 In-game
Historically the IS-7 may have been a fearsome opponent for the west, but in game the IS-7's reputation is a bit more laughable. Unlike its predecessors the IS-7 has much weaker armor even maxed, despite being one of the most heavily armored tanks built for its time. Instead The IS-7's main advantage is its top speed and high manueverablity which allows it to perform much more like a medium than a Super heavy. Despite its manueverbility it is impossible not to see the IS-7 due to its high profile, it does not support the fact that the game adds a tall gun mount to add to its tall height. Finally, the last nail in the coffin for the IS-7 is its poor gun performance even though it has a 130mm gun the ingame IS-7 is much more inferior with much poorer damage, reload, and accuracy the IS-7 is impossible to use as a sniper, a wall, or a hit and runner. Instead the IS-7 is limited to a support role, it is best to go through the IS-7's modifications quickly becuase the main gem of the soviet heavy tank line clearly not the IS-7 but the T-10.
Pros and Cons
Pros
Large health pool allows better chance of survival.
Can use APDS rounds.
High top speed.
Cons:
High profile probably due to its tall machine gun mount.
Mediocre damage output.
Poor armor compared to previous tanks.
Community content is available under
CC-BY-SA
unless otherwise noted.