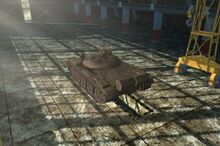 History
The IT-1 (Russian: Истребитель танков–1, Istrebitel' tankov–1, 'tank destroyer-1') was a Soviet cold war missile tank based around the hull of the T-62. The tank fired specially designed 3M7 Drakon missiles from a pop-up launcher. It saw a very limited service between 1968 and 1970. The large deadzone around the tank created by the missiles' minimum range combined with the limited amount of ammunition it carried made it unpopular with the military. Also, the 520 kg of guidance equipment needed for the missile was impractical. Eventually, the tanks were converted into recovery vehicles. A turbine-powered version was also developed named the IT-1T. Tests were conducted in April 1964 using two prototype IT-1 tanks. In 1964, there were 94 test firings. Until the end of 1964 they produced 94 controlled launchings of "Drakon". In 1968 the vehicle was put into limited production, which continued until 1970.
In-game
The IT-1 is a very effective vehicle in game, that is if used correctly. Unlike the Raketanjagdpanzer the IT-1 has a better firerate, reload, and armor but like it and other ATGM based vehicles it is strongly advised to engage vehicles at far ranges behind terrain and structures to prevent incoming fire or detection. The IT-1 is also very versitile allowing it to escape any pursuing enemy vehicles, the IT-1 also has a turret allowing it to effectivly shoot in a diffrent direction than just to he front. The IT-1 also has mines to block or engage any enemies who are to close for your ATGMs to handle.
Pros and Cons
Pros
Fast firerate for ATGMs
Low profile
Modest armor protection
Has 360 degree turret rotation which is also very quick at turning
Agile top speed
High DPM
Is equipped with mines
Cons
Cannot engage vehicles at close ranges
No smoke grenades
Community content is available under
CC-BY-SA
unless otherwise noted.