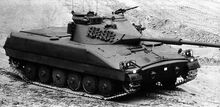 History
The IKV 91, or Infanterikanonvagn 91, was a high mobility tank destroyer that was developed to meet the operational requirements of the Swedish Army. It was designed and manufactured by Hägglund and Söner (now Hägglunds Vehicle AB) and employed common components with the Pbv 302 armored personnel carrier series. The first prototypes of the IKV 91 were completed in 1969 with production running from 1975 until 1978. The total number of vehicles manufactured were 212. The layout of the IKV 91 is similar to a large light tank. The IKV 91 is divided into three main compartments, the driver's station in the forward left hull, the fighting compartment located in the vehicle's midsection, and an engine compartment in the rear hull. The IKV 91 fired at a rate of eight rounds per minute and fifty nine rounds of 90 mm ammunition were carried internally. The tank was also capable of firing while in water, with the water absorbing most of the recoil. The turret itself has a small hatch that can be opened by the loader to eject used cartridge cases to prevent clutter in the tank.
In-game Tactics
Try to cover as much as possible of the tank, as the armor is very thin. The accuracy is fairly nice and the reload of 2.1 seconds is a good bit faster than an average reload time, which makes it possible to snipe down targets fast and efficiently. This tank can be used in close range combat or as sniper tank in bigger maps. This tank has a low armor number (20), but its spaced armor can repel shots somewhat reliably. But since the armor number is so low, high explosive can easily do massive damage to the IKV 91. This tank is maxed at level 36 and can take down targets around its range in just a few shots or so.
Pros and Cons
Pros:
Fairly fast reloading speed, good DPM
Amazing speed, agility is great as well
Cons:
Horrendous armor all round, very vulnerable from high explosive
Alpha damage is rather low
Community content is available under
CC-BY-SA
unless otherwise noted.