History
The K1 88 is the first 3rd generation MBT of ROK and it's also known as the 88 Tank or ROKIT. The most modern version of the K1 are the K1A2 and K1E1. It looks a lot like the M1A2 Abrams and performs somewhat similar to it as well.
The K1 is a South Korean main battle tank in use with the Republic of Korea Armed Forces, developed by General Dynamics Land Systems (GDLS), and produced by Hyundai jung gong (Now Hyundai Rotem). The vehicle's early design work was based on General Dynamics' M1 Abrams, with some noticeable differences including a combined system of hydropneumatic suspension and torsion bars, and a river-crossing fording kit, to meet the required operational capability that was specific to combat operations in the mountainous and swampy terrain of the Korean Peninsula. The K1 88 entered service in 1999, upgraded with an 120 mm smoothbore gun, and outfitted with more modern electronics, ballistic computers, and fire control systems developed by Samsung Electronics. Hyundai Rotem produced 1,511 K1 and K1 88 tanks between 1985 and 2010. In the 1970s, the Republic of Korea was desperately in need of additional main battle tanks. The M4A3E8 "Easy Eight" variant of Sherman tanks, dating back to World War II, had been retired from service by the Republic of Korea Army, and the backbone of the South Korean armor was formed up of M47 and M48 Patton tanks. Meanwhile, North Koreans had both numerical and technological advantages over the South Korean armor with their T-62 main battle tanks.
In-game
Much like it's American cousin, the Abrams (though in-game highly similar to the C1 Ariete), the K1 fairs well in high level matches. These two tanks both have really high damage roles, but the K1 comes in at number one with 560 theoretical damage. However, this tank trades in firepower for protection and speed. The K1's armor is very weak except for its mediocre but unreliable frontal armor, and can easily be outmatched by any gun of any tank that it will meet. The speed is average, around the normal 55 km/h mark. However, this vehicle has a massively high health of 1115, meaning that it can take quite a few shots before going down. Because of these stats, most K1 drivers play as snipers or support. This tank can be occasionally underrated, and isn't a machine to be reckoned with.
Pros and Cons: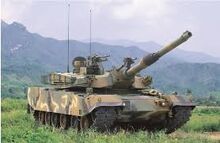 Pros:
Massive health pool
Very high alpha damage, excellent DPM and penetration values
Cons:
Very thin passive armor, complete absence of reactive armor, spaced armor is fairly effective but not reliable
Cannot use ATMs
Community content is available under
CC-BY-SA
unless otherwise noted.