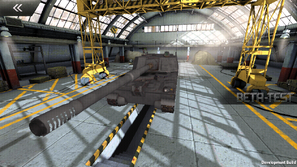 History
The K9 Thunder is a South Korean self-propelled 155 mm howitzer developed by Samsung Techwin for the Republic of Korea Armed Forces. It was developed to supplement and then replace the K55 (South Korean modification of the American M109) self-propelled howitzers in South Korean service.
The development program of this 155 mm/52 caliber self-propelled howitzer has been underway since 1989. In 1996, the first prototype of this new artillery system was tested. The contract for the new K9 artillery system was awarded to Samsung Aerospace Industries (SSA) by the Korean Government on 22 December 1998. Republic of Korea Army received its first batch of K9s in 1999. The K9 was involved in the Bombardment of Yeonpyeong between North and South Korean artillery units on 23 November 2010.
In Game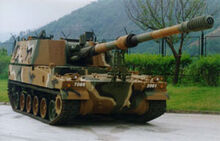 The K9 Thunder is a South Korean artillery unit, consisting of good rate of fire and damage. It is currently the highest ranking artillery in game, and can pack a mean punch in its gun. It maxes out at level 70 and has a statistical damage of 1050, which is the highest statistical damage in the game. It also has the most health of any unit in the game, at 1200 hit points. But, as it is an artillery, its very thin armor can easily be splashed with high explosive shells. It has a three round magazine and fires them between two seconds, with a six second reload of the magazine.
Pros and Cons:
Pros:
Highest health pool and statistical damage of any unit in the game (though not very important as an artillery unit wouldn't be in the main fight taking damage anyway, and its high explosive ammo will never do full damage against thickly armored main battle tanks)
Cons:
Community content is available under
CC-BY-SA
unless otherwise noted.