*Hello! This page is missing stock stats! You can help by filling out the accurate stats if you know it!
History
The Kv-1 Heavy tank which Russia entered World War II was, along with the T34, the closest any allied forces came to armor parity with the Germans at that time. it was basically a redesign of the T-100, with one of its turrets eliminated. Named after the Russian defense commissar Marshal Klimenti Voroshilov, it first saw active service in the Russo-Finish war. It was replaced a little later, in 1940, by the KV-1A, which mounted a better gun with a higher muzzle velocity and firing a larger round - the 76.2mm/3in L/41.5 Model 40. This firepower combined with thick armor stunned the Germans when they first encountered it. A special diagnostic from Germany was rushed to the front to analyze both it and the T-34. However, it was let down by its unreliable transmission, and this, coupled with its weight, made it difficult to drive, slow and cumbersome. production ceased in 1940.
In Game
The KV-1 cannot be bought, but can be fought in offline mode using a tank near its level. For those who earned it the KV-1 has thick armor and a powerful gun and is a suprisingly decent vehicle despite its age, but the KV-1 has no HE so taking on lighter targets will be hard.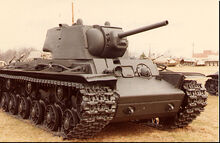 Pros and Cons
Pros
Cons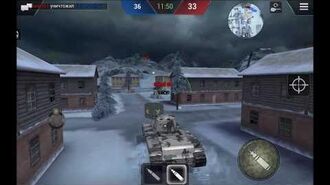 Community content is available under
CC-BY-SA
unless otherwise noted.