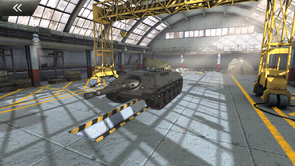 History
The Kanonenjagdpanzer is a tank destroyer used by the German Bundeswehr. It delivers excellent firepower with fairly decent health, and has a very quick reload time. It is a case mate-style TD, and as such has only limited gun traverse. The first prototypes of the Kanonenjagdpanzer were built in 1960 by Hanomag and Henschel for West Germany and by MOWAG for Switzerland. Hanomag and Henschel continued to produce prototypes, until between 1966 and 1967, 770 were built for the Bundeswehr, 385 by Hanomag and 385 by Henschel. Eighty of them were delivered to Belgium from April 1975 onward.
When the Soviets began deploying their T-64 and T-72 main battle tanks, the 90 mm gun wasn't capable of engaging in long-range combat and the Kanonenjagdpanzer became obsolete. Although the producers claimed it could be rearmed with a 105 mm gun, between 1983 and 1985, 163 of these tank destroyers were converted into Raketenjagdpanzer 2 anti-tank guided missile carriers by removing the gun, adding a roof-mounted TOW missile launcher and fastening further spaced and perforated armor on the hull. Some others were refitted into artillery observation vehicles by removing the main gun, so called Beobachtungspanzer, which served most particularly in the mortar units.
Tips
When starting out with the Kanonenjagdpanzer, the gun is horribly inaccurate. Upgrading both levels of the chassis and both gun upgrades is recommended. The upgraded gun grants it much better accuracy, allowing it to engage opponents slightly easier from long range. Although, sniping is still not the best role for the Kanonenjagdpanzer, as its speed and high DPM are designed for more close range combat where it can flank and ambush enemies.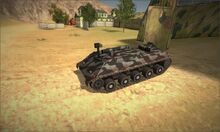 Pros and Cons
Pros:
Great damage and reload, amazing DPM in its level range
Extremely fast speed, second fastest in the game
Very low profile
Though turret-less, the traverse is excellent and the agility is respectable
Accuracy is respectable when allowed for the gun to aim
Cons:
Health pool is rather lacking, armor is thin all round and is vulnerable from some tanks' high explosive
Horrendous accuracy when rapidly fired, even at medium range
Gun gets knocked out fairly easily
Penetration values are lacking when bottom-tier, HEAT very frequently repels off of spaced armor
Though very fast, the acceleration is a bit unsatisfactory