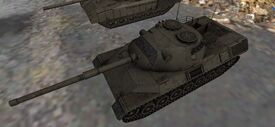 History
The Leopard 1 is a main battle tank designed and produced in West Germany that first entered service in 1965. Developed in an era when HEAT warheads were thought to make conventional heavy armor of limited value, the Leopard 1 focused on firepower in the form of the German-built version of the British L7 105 mm gun, and improved cross-country performance that was unmatched by other designs of the era. The design started as a collaborative project in the 1950's between Germany, France, and later joined by Italy. But the partnership ended and the final design was ordered by the Bundeswehr, production starting in 1965. In total 6,485 Leopard 1 tanks have been built, of which 4,744 were battle tanks and 1,741 were utility and anti-aircraft variants, not including eighty prototypes and pre-series vehicles.
The Leopard quickly became a standard vehicle of European forces, and eventually served as the main battle tank in over a dozen countries worldwide. Since 1990, the Leopard 1 has gradually been relegated to secondary roles in most armies. In the German Army, the Leopard 1 MBTs have been phased out in 2003 while Leopard 1 derived vehicles are still widely used. The Leopard 2 MBTs have taken over the MBT role. However, Leopard 1 hulls have still been re-used in a wide variety of roles.
In-game
The Leopard 1 is an average tank at stock level, but can perform greatly at max level. This tank has good speed, damage, and health relatively speaking at all levels. The role of this tank is to support other tanks going for the objective, or for sniping tanks from afar by using your fast rate of fire at enemy tanks. This tank makes a good starting tank for players who are advancing to higher levels, and is cheap for what potential it has.
*During the arrival of update 2.0 the Leopard 1 was expected to have five total variants, but the developers decided against this due to storage and game engine issues making the concept never leave the drawing board.
Pros and Cons
Pros:
Great upper frontal armor, with a combination of angling and spaced armor
Excellent damage and reload speed, amazing DPM
Accuracy is great with all shells except HEAT (when allowed to aim)
Cons:
Horrible side and rear armor, modules get damaged fairly easily
Accuracy is bad at long range if not allowed to fully aim, especially with HEAT
Penetration values are rather lacking when playing at its maxed level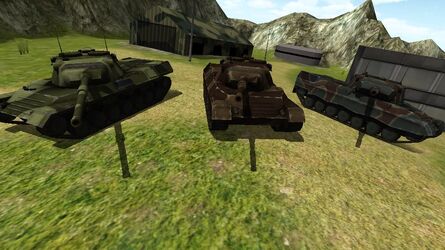 Community content is available under
CC-BY-SA
unless otherwise noted.