LbHistory
The Leopard 2 is a German MBT. The first model was produced in 1979, known as the Leopard 2A1. Constant upgrades to the tank formed the Leopard 2A2, Leopard 2A3, and finally advancing to the Leopard 2A7, which is Germany's current MBT. Not only it see's use from the German military it can be seen being used by countless of other countries such as Canada, Poland, Denmark, and other countries.
In-game
Within Tanktastic, the original Leopard 2A1 tank is able to be used, but is a very unused tank at its level. It has great speed, but takes a considerable amount of distance to achieve full speed. Its gun possesses an excellent reload of one and a half seconds, but lacks armor overall reactive and passive armor. Luckily, HEAT ammo is very unlikely to penetrate the Leopard 2 thanks to its amazing spaced armor. Since the frontal armor is rather weak and unreliable, it is commonly used in the roles of a flanker and a supporting unit. A good strategy is to get around enemy tanks, but only brawl with enemies when killing them first is certain. Although this vehicle takes some time to master, a great Leopard 2 driver will practically be unstoppable in matches when it is fully mastered.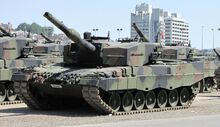 Pros and Cons
Pros:
Excellent DPM, the third best out of any main battle tank in the game.
Great frontal armor, reliable spaced armor all round.
Great speed.
Fast turret rotation speed.
Can be mounted with 2 ATM's.
Cons:
Total absence of reactive armor, HEAT will do substantial damage if it manages to penetrate.
Agility is definitely lacking.
No HE ammo available.
Unused Leopard 2 Variants (Variant Modification Concept)
Various Leopard 2 variants were planned for the "Variant modification" concept but the idea was never implemented and most of the models/variants were never used, besides the Leopard 2A7 which is planned in a upcoming update.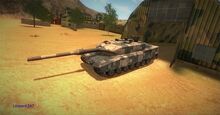 Community content is available under
CC-BY-SA
unless otherwise noted.