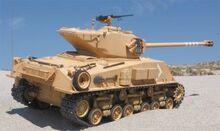 History
The Sherman M-50 and the Sherman M-51, both known abroad as the Super Sherman, were modified versions of the American M4 Sherman tank that served with the Israel Defense Forces from the mid-1950's to early 1980's. The M-51 was also referred to as the Isherman (i.e. Israeli Sherman). However, the designations Super Sherman and Isherman were never used by the Israeli Defense Forces. In the 1960's, 180 Sherman tanks received the even more powerful French 105 mm Modèle F1 gun that was originally fitted onto the AMX-30. The barrel length of the gun was reduced from 56 caliber to 44 and equipped with a muzzle brake; ammunition was altered to use a smaller cartridge.
In Israel, the gun was designated M-51 and the tank the Sherman M-51. M4A1 hulls and the larger T23 turrets (from 76 mm armed Shermans) were used for the conversion. All tanks were fitted with Cummins diesel engines and HVSS suspension. The tank was displayed to the public for the first time during the Independence Day ceremony in 1965. Abroad, the M-50 was known as Super Sherman (the "Continental" variant as Mark I and the "Cummins" variant as Mark II) and the M-51 as either Super Sherman or Isherman. These designations were never used in Israel. The only tank model designated Super Sherman by the IDF was M4A1 with 76 mm M1 gun and HVSS suspension, which was named Super Sherman M-1.
In-Game 
The M51 Super Sherman in game is an average jack of all trades vehicle. Although despite having an outdated hull and chassis opposiny players should not judge the vehicle as "weak" the vehicle has decent armor allowing to have a high survivability so it is not suggested to use HE against it, though this is nothing to boast about. Its gun also has a similar description in which it is useful enough to allow the M-51 to survive on the battlefield. The Super Sherman should mainly be used in a support/reinforcement role but it can hold its own on some cases.
Pros
Large health pool
Gun has great alpha damage
Very respectable DPM, though reload speed is a bit slower than normal
Cons
High profile
Turret rotation speed is rather low
Cannot use high explosive or HEAT ammo
Community content is available under
CC-BY-SA
unless otherwise noted.