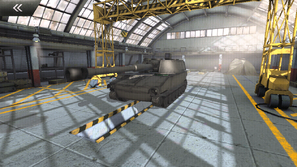 History
The M109 is an American 155 mm self-propelled howitzer, first introduced in the early 1960's. It has been upgraded a number of times, most recently to the M109A7. The M109 family is the most common Western indirect-fire support weapon for maneuver brigades of armored and mechanized infantry divisions. The M109 has a crew of six: the section chief, the driver, the gunner, the assistant gunner, and two ammunition handlers. The gunner aims the cannon left or right (deflection), the assistant gunner aims the cannon up and down (quadrant). The M109A6 Paladin needs only a crew of four: the commander, driver, gunner, and ammunition loader.
Usage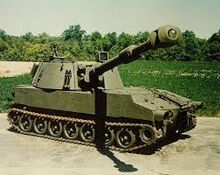 Its statistic damage (like all artillery units) is extremely high, but is average at the battlefield due to the capability of using only HE shells. The M109 is a tank that is good for destroying enemy positions. With high firepower this tank is the kind that one would want to use when needing to take out targets fast. This tank is reliable and overall a good artillery unit.
Pros and Cons
Pros:
Powerful cannon can take out most tanks with a couple shots.
Can use the Floating Kit, (though not recommended to fire in water)
Fairly fast, despite its cumbersome look
Cons:
High profile for an artillery unit
Slow aim time and poor accuracy for an artillery
Community content is available under
CC-BY-SA
unless otherwise noted.