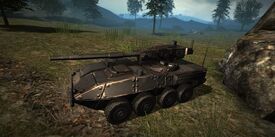 History
The M1128 Stryker MGS (Mobile Gun System) is an eight-wheeled armored fighting vehicle mounting a 105 mm tank gun. It was based on the Canadian LAV III light-armored vehicle, manufactured by General Dynamics Canada. It is in service with the United States and was also being considered for adoption by several other countries, including Canada itself. Following the end of the Cold War, some theorists believed that the existing suite of U.S. armored vehicles, designed largely to fight Soviet mechanized forces in Europe, were not well suited to the lower-intensity missions U.S. armed forces would be tasked with. This led to the development of a new armored fighting vehicle designed for lower-intensity combat, rather than large-scale battle.
In-game
The stryker in game is classed as a tank destroyer though it js best to play it as a light tank due to light speed, littler armor, medium damage,and poor accuracy. The Stryker relies mainly on its high top speed to get to it's firing position or flank its opponent.
Pros
High top speed
Decent gun
High HP
Cons
Poor armor protection
Poor accuracy
Tall profile
Occasionally drifts
Community content is available under
CC-BY-SA
unless otherwise noted.