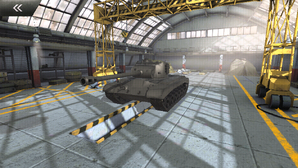 History
The M26 Pershing was the first operational heavy tank of the U.S. Army, but was later reclassified as a medium tank. It was designated a heavy tank when it was designed in World War II due to its 90 mm gun, which was at the time the largest caliber gun found on an American tank. In 1957, the United States developed the M103 heavy tank which had an even larger 120 mm gun, and the M26 Pershing was re-designated as a medium tank. The tank is named after General John J. Pershing, who led the American Expeditionary Force in Europe in World War I. It was briefly used both in World War II and in the Korean War, but was then replaced by the M46 Patton. The two tanks were so close to design that some even called it the M46 Pershing. There was an attempt on modifying the tank's armor and gun and the designated vehicle was called the T26E4 Super Pershing, though it never saw action.
In-game
In the 1.22 update, the M26 Pershing was the starter tank for players in North America and a introduction into the American tech line, but was replaced by the T92 in update 2.0. Unlike the T-54 that can perform fairly well against higher level opponents, the Pershing proves to be near useless when going against higher tiered tanks. This tank is good to use in close quarters combat maps, because of the pretty fast speed and turret traverse. Try to cover as much as possible of the hull of the Pershing, as it is much weaker than the turret and the gun mantlet. It is very important to try and keep the front of the tank towards enemies, and get up close very close to them so they have nothing else to shoot but the very strong gun mantlet that this tank has. Because the Pershing has such a protective mantlet and has nice gun depression, going hull-down is an excellent strategy and is very effective for taking out enemies without receiving too much damage in return.
The Pershing will lead to the M103.
Pros and Cons
Pros:
Good speed
Thick gun mantlet
Good gun depression
Fast turret rotation speed
Cons:
DPM is rather low
Hull armor is horrible
Profile is somewhat large
Very weak when bottom-tier
Community content is available under
CC-BY-SA
unless otherwise noted.