History
The M270 Multiple Launch Rocket System (M270 MLRS) is an armored, self-propelled, multiple rocket launcher; a type of rocket artillery. Since the first M270s were delivered to the U.S. Army in 1983, the MLRS has been adopted by several NATO countries. The weapon can fire guided and unguided projectiles up to 42 km (26 mi). Firing ballistic missiles, such as the U.S. Army Tactical Missile System (ATACMS), it can hit targets 300 km (190 mi) away; the warhead in such shots reaches an altitude of about 50 km (164,000 ft). The M270 MLRS was developed jointly by the United Kingdom, United States, Germany, France, and Italy. It was developed from the older General Support Rocket System (GSRS). The M270 MLRS' weapons system is collectively known as the M270 MLRS Self-propelled Loader/Launcher (SPLL).
In-game
The M270 MLRS is an artillery vehicle, which means that this tank has a low armor number (40). The easiest way to use this vehicle to move behind some kind of cover. From cover, enemies can be shot over the cover while having the vehicle out of line of fire. Since it is an artillery unit, it is basically useless in close combat maps and fights. Staying behind a hill, building, or other objects that are big enough the hide the vehicle (but still allow rockets to be fired over) in a medium to larger map will usually decrease the amount of times the M270 MLRS will be killed and allow it to kill more enemies instead. The M270 can also be used in shoot-and-scoot tactics, firing its rockets rapidly, then moving back into cover to avoid counter-battery fire.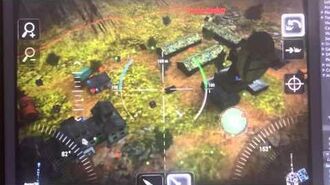 Pros and Cons
Pros:
Clip reload time is not bad, considering that each rocket can deal a good amount of damage and shot reload is fairly quick
Cons:
As typical, rocket launchers can get disabled easily with even high explosive, ammo racking can also frequently occur
Community content is available under
CC-BY-SA
unless otherwise noted.