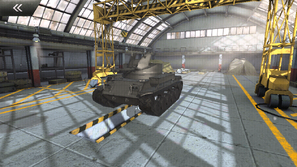 History
The M42 40 mm self-propelled anti-aircraft gun, or "Duster", is an armored light air-defense gun built for the U.S. Army from 1952 until December 1959. Production of this vehicle was performed by the tank division of the General Motors Corporation. It used components from the M41 Walker Bulldog light tank and was constructed of all welded steel.
During the Korean war the U.S. army decided to replace the M19 motor gun carriage which was based on the m24 chasis, and replace it with the M41 Walker Bulldog's chasis. A total of 3,700 M42 Dusters were built. The vehicle has a crew of six and weighs 22,500 kg (49,500 lb) when fully loaded. The maximum speed is 45 mph with a range of around 100 miles. The main armament consists of fully automatic twin 40 mm M2A1 Bofors, with a rate of fire of 2x120 rounds per minute (rpm), and either a .30 caliber Browning M1919A4 or 7.62mm M60 machine gun as a secondary. The 500 horepower, six-cylinder, Continental (or Lycoming), air-cooled, gasoline engine is located in the rear of the vehicle. It was driven by a cross-drive, two-speed Allison transmission. Although the M42 Duster was initially designed for an anti-aircraft role, it proved highly successful when used in the Vietnam War against unarmored ground forces.
In-Game Use
The Duster is fairly a unique vehicle, as it is an anti-aircraft tank used for taking down enemy aircraft support units instead of actually going against the enemy tanks. The gun has sixty rounds and the fire pattern is the same as any other Anti-aircraft or Fire Support vehicle, though a bit slower fire rate between each shell than some of them. It has a speed of 46 kph when fully upgraded to help yourself for getting around the battlefield to shoot down enemy aircraft and to quickly grab health boxes. In conclusion, you have yourself one of the fastest tanks in its level range with a rapid-firing gun to effectively take down air support units.
Trivia
Besides the Soviet T-54 medium tank, the M42 Duster is said to be one of the most overpowered vehicles at the lower tier levels. Many players hate this vehicle more than the T-54, as its rapidfiring guns are known to very annoying and gameplay-laggy to other players
Pros and Cons
Pros:
Amazing speed, especially since it is at the lowest levels
Fast turret rotation
Cons:
Guns get disabled rather easily
Terrible armor, high explosive damages it easily
Community content is available under
CC-BY-SA
unless otherwise noted.