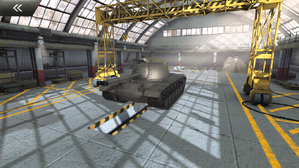 History
The M48 served for the United States in the Vietnam War. The Patton was in the U.S. service until the M60 Patton came out, but the M48 continued to serve many other countries. Some countries still use the M48 Patton in the present day, but are upgraded to each country's liking. It was well produced since it was used by so many different countries and was needed in large quantities for the wars that they happened to be used in. The M48 Patton was named after General George S. Patton.
Combat Roles In-game
The M48 Patton stays at lower level matches, even when fully upgraded. With the right operator, it can absolutely dominate the battlefield. Its gun is accurate but the tank's speed is slow, so the M48 serves best in a support role. Its fairly strong armor in combination with its adequate health pool makes it tough to kill at longer ranges, as shells will prove to be ineffective if they hit the Patton's very strong gun mantle or upper glacis. Many players will skip over this tank for better ones early on, but the Patton holds its own when the situation calls for it.
Pros and Cons
Pros:
Powerful gun, especially with HEAT ammo
Good gun depression, pretty good accuracy and penetration values
Nice sloping of upper and lower frontal armor
Strong frontal turret armor, very strong gun mantlet
Cons:
Slow speed, agility is lacking as well
Huge weakspot on cupola and a rather large profile make going hull-down much less effective
Ammo rack is fairly vulnerable when shot in the lower back of the turret
Though not much of a con, it cannot use high explosive ammo
The M48 will lead to the T95
Community content is available under
CC-BY-SA
unless otherwise noted.