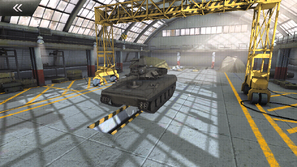 History
The M551 "Sheridan" AR/AAV (Armored Reconnaissance/Airborne Assault Vehicle) was a light tank developed by the United States and named after Civil War General Philip Sheridan. It was designed to be landed by parachute and to swim across rivers. It was armed with the technically advanced but troublesome M81/M81 Modified/M81E1 152mm gun/launcher, which fired conventional ammunition and the MGM-51 Shillelagh guided anti-tank missile.
The M551 Sheridan entered service with the United States Army in 1967. At the urging of General Creighton Abrams, the U.S. Commander of Military Forces in Vietnam at the time, the M551 was rushed into combat service in Vietnam in January 1969. In April and August 1969, M551s were deployed to units in Europe and Korea, respectively. Now retired from service, it saw extensive combat in Vietnam, and limited service in Operation Just Cause (Panama), and the Gulf War(Kuwait). The Australian Army also trialed two Sheridans during 1967 and 1968, but judged that the type did not meet its requirements.
In-game
The M551 Sheridan is a well balanced and well armed tank with an incredible speed and a very powerful gun. It is capable of obliterating other tanks with regular tank rounds or its anti-tank missiles, which are not owned by very many other tanks at all in its available level range. Even after each patch in the development of the game, the M551 continues to be a deadly force in the battles that it fights in.
Pros and Cons
Pros
Very powerful gun, can take out most tanks in just a couple shots
Anti-tank missile is devastating, and can one-shot several tanks
Excellent speed with acceptable agilty
Very fast turret rotation speed, only beat by the FV101 Scorpion
Cons
Very weak armor, easily penetrated with high explosive ammo
Slow aim time, poor accuracy
Gun is very easy to damage, even with high explosive
Heavily targeted because of its extreme threat level
No APDS available, may have trouble engaging heavily armored targets
Due to the only ammunition being HEAT and HE the shots may travel at a slow pace, APDS may be the fastest round on the vehicle though it isn't as effective in damage.
High chance of either doing a low role or ricochet
Community content is available under
CC-BY-SA
unless otherwise noted.