History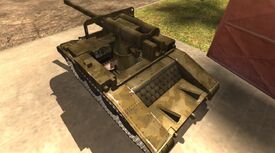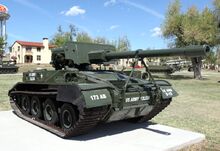 The M56 Scorpion (not to be confused with the British FV101 Scorpion) was an American tank destroyer used by the Airborne Division. It was armed with an 90 mm gun and held around ninety rounds of ammunition. The M56 Scorpion was manufactured from 1953-1959. Although the vehicle was made in the United States, it is used more by Spanish Navy Marines and the Republic of Korea.  The vehicle had a crew of four and weighed around 6.4 tons empty and around 7.7 tons combat-loaded. It had no equipment to keep the crew alive in radiation or polluted air, as it was mainly used for chemical and nuclear warfare. It was also not amphibious. It was powered by a 200 horsepower engine and could go up to 28 mph (45 kph). It had a range of 140 miles (225 kilometers) before the need of refueling takes affect.
In-Game
The M56 Scorpion is considered one of the hardest tanks to use in-game. It's low top speed coupled with the inaccuracy of the main gun and armor makes it very hard to secure a kill. It can use HEAT shells, but the long reload rate limits the time to kill. It is better to just get this tank, grind silver and gold with your other tanks, and then upgrade the M56 to level 10 so you can purchase the M50 Ontos.
Pros and Cons
Pros
Powerful gun, can use HEAT shells
Low profile is good for hiding
Cons
Limited gun traverse.
Very thin armor, can get destroyed in roughly 2-3 hits, even worse with HE shells
Top speed is not that good, so escaping from enemy fire is made difficult
Community content is available under
CC-BY-SA
unless otherwise noted.