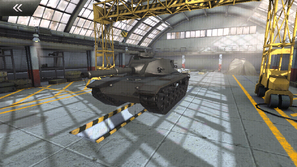 History
The M60 Patton was an American main battle tank serving from 1961-1997. It was initially armed with an 105 mm main gun with .50 cal and 7.62 mm machine guns as secondary armaments. It had a top speed of 30 miles/hour, or 48 kilometers/hour. With a total of around 15,000 built, it was a apparently a good tank on the battlefield. The M60-based M60 AVLB (Armored Vehicle Launch Bridge) and the M728 Combat Engineer Vehicle were the only variants of the M60 deployed to South Vietnam. The AVLB, commonly referred to as the "bridge tank", was mounted on an M60 tank hull, and the M728 Combat Engineer Vehicle was an M60 tank mounting a short-tubed 165 mm (6.5 in) main gun that fired a shaped charge.
Late in the service of the M60 Patton in the U.S. Army, a number of prototype upgrades were evaluated. These were passed over in favor of simply producing more of the M1 Abrams main battle tank. Due to the end of the Cold War, surplus US Army M1s were absorbed into the remaining USMC units, allowing the Marine Corps to become an all-M1 Abrams tank force at reduced cost. Except for a small number in active service, most M60s were placed in reserve, with a few being sold to US allies.
Combat Roles In-game
The M60 Patton is a balanced MBT that packs a very powerful punch in its gun. If the gun is fully upgraded, it can kill most tanks in only a few shots. Players can be very good in this tank if they know how to use it effectively, and can potentially impact games very drastically. It is important to be alert at all times because the M60 is a large vehicle with some thin armor. This is especially true around the engine, which is very vulnerable to high explosive damage and can easily be damaged and lit on fire.
Pros and Cons
Pros:
Very powerful gun, ATM's can also do massive damage
Nice frontal armor, though not sloped like the M48 Patton's
Reasonable agility and hull traverse speed
Cons:
Horrible side armor, worse than the M48 Patton
Tracks get damaged easily and also allow shells to go straight through
Very vulnerable engine, gets flamed up frequently
The M60 will lead to the MBT-70
Community content is available under
CC-BY-SA
unless otherwise noted.