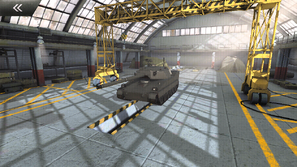 History
The United Defense M8 Armored Gun System is a light tank that was intended to replace the M551 Sheridan in the 82nd Airborne Division, as well as being expected to replace TOW-equipped Humvees in the 2nd Armored Cavalry Regiment (2nd ACR). The M8 project was eventually cancelled. Its role in the 2nd ACR was later taken by the M1128 Strkyer Mobile Gun System. A total of six prototypes were eventually built for the U.S. Army under the designation of the XM8 AGS. The M8 was later type-classified by the U.S. Army in late 1995 and initially slated for production in 1996. The M8 project was canceled in 1997 to free up money for other fledgling programs. In March 2004 at the 82nd Airborne Division's request, the Army approved the transfer of four production vehicles from United Defense's facility in York, Pennsylvania to the 82nd at Fort Bragg in North Carolina. However as of June 2004, this transfer was on hold, pending an "ongoing analysis". The M8's role in the 2nd ACR was eventually taken by the Stryker. All six prototypes still exist in varying conditions.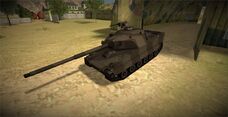 United Defense had reportedly sought overseas customers, but without success. In late 1997, they parted with FNSS Defence Systems to offer the M8 AGS to the Turkish Land Forces Command. As of 2006, Taiwan at one point expressed interest as a replacement for its fleet of M24 Chaffee/M41 Walker Bulldog light tanks, but would not commit following cancellation by the U.S.
In-game Tactics
The M8 AGS does fairly good damage and has an amazingly quick reload time, tied with the K2 Black Panther for fastest in the game; however, accuracy at medium to long range leaves much to be desired. Therefore engaging at close range is the best option, where the M8's agility and speed come into play. The M8 is not a "true" light tank like the FV101 Scorpion or AMX-13, but it's statistically also the fastest tank in the game and as such is better at flanking and circling enemies. Its high rate of fire helps make up for its low damage, health pool, and armor, as the M8 cannot withstand a great deal of punishment. While it is fairly agile, it is still far from the dexterity of the Scorpion. Even though the M8 is good at circling and is extremely fast, a good driver can still circle the M8 itself due to its agility not being as excellent as its speed.
Pros and Cons
Pros:
Astounding reload speed, tied for the fastest reload in the game
Awesome DPM
Fastest speed in the game
Cons:
Alpha damage is low (though made up with its fast reload)
Thin armor, gets taken out easily even with its spaced armor
Agility is lacking and constrains speed
Community content is available under
CC-BY-SA
unless otherwise noted.