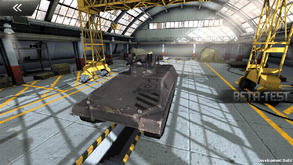 History
The Marder 1 is a German IFV that uses an autocannon. Anti-tank missiles are also available to purchase for this vehicle. Since the Marder uses an autocannon, shots can be very rapidly fired but with each shot doing only little damage. Since the ATM is fired from a different launching tube, it may be fired at the same time while the main autocannon is still in use. The Marder 1's armor is very thin, but its spaced armor is still fairly effective at repelling HEAT shells. But, high explosive shells can still be easily splashed on its armor and deal some major damage.
In-game
The Marder 1 is an efficient tank, if the autocannon is combined with the ATM launcher by the player. The autocannon is very effective at short range, but at long range this cannon's accuracy is very bad. The ATM missile option can be bought in the hangar, and is very useful as Marder 1 player.  With a speed of 57.8 km/h, this vehicle is good for supporting an ally deliver a flag and pick up the flag if said ally dies. But, it is not recommended to attempt to deliver flags alone, as the very thin armor of the Marder will cause its health to diminish relatively quickly. If the sixty round magazine is empty, make sure that there are no enemies around because it takes eight seconds to reload the clip. It is highly recommended to always reload the magazine when the opportunity to do so occurs, as the amount of rounds in the clip can decrease to zero faster than many may think, allowing enemies to take the Marder out without any resistance.
Pros and Cons:
Pros:
Autocannon's reload speed is even faster than that of the Type 89 IFV
Excellent sloping of the upper glacis even though it is thin, spaced armor protects it even more
Fast turret rotation speed in combination with the turret's small size
Nice speed with acceptable agility, can also use floating kit
Cons:
High explosive ammo deals great damage, rendering all of its armor areas useless
Gun gets taken out fairly easily
Damage if fairly little with each shot so it requires multiple shots to be put into the target vehicle in order to disable it.
Community content is available under
CC-BY-SA
unless otherwise noted.