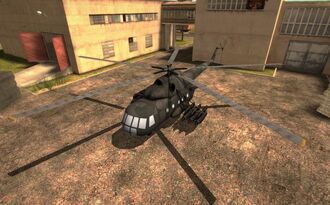 History
The Mil Mi-8 (Russian: Ми-8, NATO reporting name: Hip) is a Soviet-designed medium twin-turbine transport helicopter. There are also armed gunship versions. The Mi-8 is among the world's most-produced helicopters, used by over fifty countries. Russia is the main producer and the largest operator of the Mi-8/Mi-17 helicopter.
Mi-8TVK (Hip-E, Mi-8TB)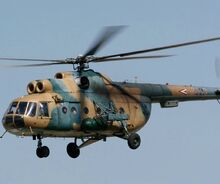 This version is used as a gunship or direct air support platform. Airframe modifications add two times more external hard points for a total of six, and mount a flexible 12.7 mm (0.5 in) KV-4 machine gun in the nose. It had an armament of 57 mm S-5 rockets, six UV-32-57 rocket pods, 551-lb (250-kg) bombs, and four AT-2 Swatter ATGMs.
Community content is available under
CC-BY-SA
unless otherwise noted.