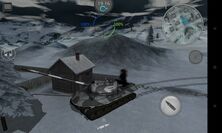 History
Object 279 (Объект 279) was a Soviet experimental heavy tank developed at the end of 1959. This special purpose tank was intended to fight on cross country terrain, inaccessible to conventional tanks, acting as a heavy breakthrough tank, and if necessary withstanding even the shockwave of a nuclear explosion. It was planned as a tank of the Supreme Command Reserve. One of the reasons that this tank project was abandoned, as with other heavy tank projects, was the fact that the Soviet military stopped operating with heavy fighting vehicles of that type, tanks and similar, as of 1960. Since then, the heaviest ones are kept at about 50 metric tons of weight, that is without counting in any extra equipment such as additional reactive armor, mine clearing devices (mine ploughs, mine rollers) etc.
In Game
In-game, the Object 279 is rarely seen due to the new update, in the new update the Object 279 has been moved to the Premium line and has been made more expensive and heavily buffed. But once you purchase the tank it is deadly on the battlefield. The thick all round sloped armor prevents enemy vehicles to do high damage to it. As the tracks aren't covered, these are easy to disable. The gun causes 60 or higher damage at the stock level, and this will kill an opponent in 2, 3, or 4 shots, depending on the enemy's health pool. For a heavy tank, the speed is high. Only the HE shell can be bought for this tank. Using the high speed a (skilled) player can circle around the enemy vehicle and take him down. When circulating around the opponent, the reload time is the main problem. This tank can be used in close combat, or in large scale combat.
Pros and Cons
Pros:
Amazing spaced armor, with having two tiers of it at under level 20
Turret rotation is respectable for a heavy as well
Cons:
Very low health pool for a heavy tank
Low alpha damage with a fairly slow reload as well, poor DPM
Limited ammo types
Large target for artillery
Community content is available under
CC-BY-SA
unless otherwise noted.