History
The PL-01 Concept is a Polish armored fighting vehicle created by OBRUM with support from BAE Systems. The concept vehicle project was first unveiled at the International Defense Industry Exhibition in Kielce on September 2, 2013. A full prototype is estimated to be completed in 2016, and should the project be finalized and approved following evaluation, mass production is scheduled to begin in 2018.
The PL-01 Concept will be equipped with a 940 horsepower (700 kilowatt) diesel engine coupled to a torque converter, automatic gearbox, and driving assistance mechanism. The vehicle can reach speeds of up to 70 kilometers per hour (43 miles per hour) on hard roads and 50 kilometers per hour (31 miles per hour) in rough terrain, with a maximum range of 500 kilometers (310 miles). It can successfully climb obstacles of 30 degrees, cross ditches and trenches up to a width of 2.6 meters (8 feet 6 inches), and cross water obstacles with a depth of up to 1.5 meters (4 feet 11 inches) without preparation.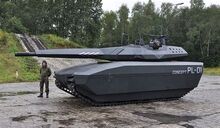 Ingame
The PL-01 is the only Polish vehicle ingame and is very effective vehicle ingame due to it's gun and speed. The PL-01's main weakness though is its poor armor which can easily penned by HE and HEAT rounds often inflicting massive damage another problem the PL-01 has is its rear mounted turret design which is problematic when shooting and ducking around corners as it may be difficult to gauge if the enemy may be able to damage your hull. This can problsm though should not be an issue though as the PL-01 is the fastest vehicle ingame just barely beating the BTR-4 by 1 one decimal. Overall the PL-01 is a dangerous tank if utilized correctly.
Pros and Cons
Pros
Powerful gun
Fastest tank ingame
High health pool
Cons
Mediocre armor protection
Missing HE rounds
Tall profile
Rear mounted turret can be difficult to shoot and duck behind corners
Engine can be set on fire often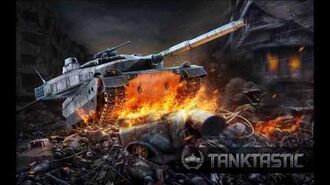 Community content is available under
CC-BY-SA
unless otherwise noted.