History
The PLZ-05 or the Type 05 is an 155 mm self-propelled howitzer developed by the People's Liberation Army of China to replace the Type 59-1 130 mm. The PLZ-05 was officially unveiled at the Military Museum of the Chinese People's Revolution to mark the 80th anniversary of the PLA in July 2007, and first entered service with the PLA in 2008. The PLZ-05 can fire the WS-35 shell, a 40 lb (18 kg) guided munition with accuracy of 40 m (130 ft) and a max range reported to be 100 km (62 mi). It is guided using Beidou Navigation Satellite System, the Chinese version of global positioning system, and inertial guidance.
Ingame
The PLZ-05 is a extremely exceptional vehicle and very potent. Unlike its younger brother it does not need a clip after firing and it will constantly bombard positions with relative ease.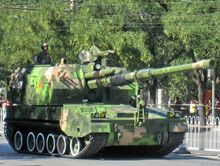 Pros and Cons
Pros
Fast reload
High health
High damage
Cons
No armor
Tall profile
Cannot engage close range
Slower reload compared to other artillery vehicles on similar levels
Community content is available under
CC-BY-SA
unless otherwise noted.