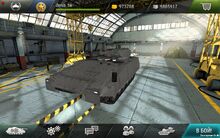 History
The Puma is a German infantry fighting vehicle (Schützenpanzer or short SPZ) designed to replace the aging Marder 1A1 IFVs currently in service with the Bundeswehr. The replacement began in 2010, and is scheduled for completion by 2020. Mass production began on July 6, 2009. The company responsible for the project is PSM Projekt System Management, a joint venture of Krauss-Maffei Wegmann and Rheinmetall Landsysteme. The Puma is one of the best-protected IFVs, while still having a high power-to-weight ratio. SAIC offered a derivative of the Puma as its contender in the American GCV Infantry Fighting Vehicle program.
In-game
The Puma is a fast, light tank. It can travel quickly around the battlefield, and does decent damage to other light and medium tanks. However, it cannot go up against heavy tanks very effectively, so a strategy to use is to drive around the target, firing at the rear for maximum damage. Heavy tanks usually have slow turret rotation, so you should be able to hit them several times before they hit you. Like most other light tanks, the Puma is easily destroyed by tanks using HE and HEAT shells, so rely on your agility to avoid getting hit.
Pros and Cons
Pros:
Good top speed
Fast firing gun
Quick turret rotation
Low profile
Cons:
Requires multiple shotsto be put into the enemy vehcile just to whittle down its health.
Poor armor protection
Community content is available under
CC-BY-SA
unless otherwise noted.