History
Tiger I is the common name of a German heavy tank developed in 1942 and used in World War II. The final official German designation was Panzerkampfwagen VI Tiger Ausf.E, often shortened to simply Tiger. It was an answer to the unexpectedly impressive Soviet armor encountered in the initial months of the Axis invasion of the Soviet Union, particularly the T-34 and the KV-1. The Tiger I gave the Wehrmacht its first tank mounting the 88 mm gun in its first armored fighting vehicle-dedicated version: the KwK 36. During the course of the war, the Tiger I saw combat on all German battlefronts. It was usually deployed in independent tank battalions, which proved to be formidable against even multiple enemies simultaneously.
In Game
The Tiger I cannot be bought but only can be received via WW2 league as a prize or a forum contest prize.
The Tiger I is mainly used for fun and rarely used for action but is the most fit for combat of all WW2 league only tanks in game, but for cases where the Tiger I is used mainly in WW2 leagues, it has weak armor and a not-so powerful gun, most tanks besides other WW2 prize tanks can easily engage it.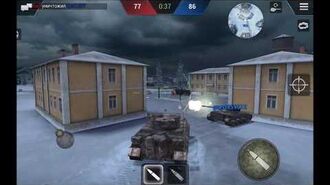 Pros and Cons
Pros
Readily equipped with smoke grenades
Rare vehicle
Cons
Gun is not capable to deal with most of the cold war tanks in game.
Can only be equipped with AP and APDS
Slow turret traverse
Weak armor worse than T-34/85 even when fully leveled