*Hello! This page is missing stock stats! You can help by filling out the accurate stats if you know it!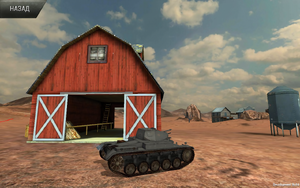 History
The Panzer II is the common name used for a family of German tanks used in World War II. The official German designation was Panzerkampfwagen II (abbreviated PzKpfw II). It was mounted with a 20 mm KwK 30 L/55 gun, which was an auto-reloading cannon. The Panzer II was supplemented by the Panzer III and Panzer IV by 1940/1941. Thereafter, it was used to great effect as a reconnaissance tank. By the end of 1942, it had been largely removed from frontline service and it was used for training and on secondary fronts. Production of the tank itself ceased by 1943, but its chassis remained in use as the basis of several other armored vehicles, chiefly self-propelled artillery and tank destroyers such as the Wespe and Marder II (not to be confused with the Marder 1 IFV).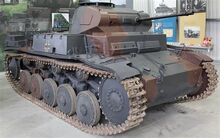 In Game
The Panzer II cannot be bought and only could be earned/won through WW2 leagues and the occasional forum contest. The Pz II can be fought in offline mode by using a tank near its level. For users who have the Pz II it is suprisingly decent despite being a dated pre-war vehicle. The vehicle's autocannon once flanking an enemy can be nuisance to the enemy coupled with it's decent speed and low profile. The Panzer 2's armor is modest compared to other lightly armored vehicles (compared to the M56 Scorpion which only has 6 armor points and the M42 Duster which only has 14 armor points which the Panzer 2 would fare better). The main downfall of the vehicle is it's extremely low health points only having 70 which is the lowest health points of any vehicle in game meaning it has a high chance of being one shotted. The Pz 2 also only has AP ammo meaning it may have problems with speeding lightly armored vehicles.
Pros and Cons
Pros
Good top speed
Low profile
Fast reload which doesnt rely on an auto reload or clips.
Rare vehicle
Pros
Scarce armor protection (Though it has modest armor compared to other lightly armored vehicles)
Does very minimal damage
Limited to only AP ammo
Inaccurate bursts
Super low health points (being the worst in game)
Community content is available under
CC-BY-SA
unless otherwise noted.