History
The Panzerkampfwagen IV (Pz.Kpfw. IV), commonly known as the Panzer IV, was a German medium tank developed in the late 1930's and used extensively during the Second World War. Its ordnance inventory designation was Sd.Kfz. 161. Designed as an infantry-support tank, the Panzer IV was not originally intended to engage enemy armor—that function was performed by the lighter Panzer III. However, with the flaws of pre-war doctrine becoming apparent and in the face of Soviet T-34 tanks, the Panzer IV soon assumed the tank-fighting role of its increasingly obsolete cousin. The most widely manufactured and deployed German tank of the Second World War, the Panzer IV was used as the base for many other fighting vehicles, including the Sturmgeschütz IV assault gun, Jagdpanzer IV tank destroyer, the Wirbelwind self-propelled anti-aircraft weapon, and the Brummbär self-propelled gun. Though obsolete by post war tank standards, Panzer IV tanks have been known to have been shipped to the Syrian army where it later saw action in the battles of Golan heights against the Israeli army.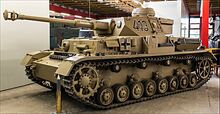 In Game
The Panzer IV cannot be bought, but can be fought in offline mode using a tank near its level. For players which received the tank from a WW2 league or Forum contest the Pz IV is a extremely rare vehicle and is the least seen vehicle of all the WWII collectors vehicle as currently the base stats and ammunition types are unknown. The panzer IV is best used as a support vehicle mainly a light tank though the speed is not that great but this is mended by its fast reload of 1.7 secs and modest gun damage.
Pros and Cons
Pros
Fast reload
Low profile
Rare
Cons
Community content is available under
CC-BY-SA
unless otherwise noted.