History
The Panzerkampfwagen VIII Maus ("Mouse") was a German World War II super-heavy tank completed in late 1944. It is the heaviest fully enclosed armored fighting vehicle ever built. Only two hulls and one turret were completed before the testing grounds were captured by the advancing Soviet forces. One is surviving in the Kubinka tank museum though it is not in running order.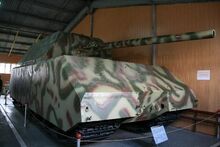 In Game
The Maus is the largest tank in Tanktastic, and more expensive than the Black Eagle. At its level, it is a tough opponent to face as the vehicle is best taken on via long range, flanking, or by a group of tankers. However, it has absolutely poor maneuverability, poor speed, and no accuracy. It has the longest reload of any heavy tank in the game at 7 seconds, only beaten by the stock Merkava and 2S3 Akatsiya at 7.5 seconds, and tied with the AMX-13 F3 AM. Although, if the heavy armor and decent health pool will help the vehicle sponge attacks. The vehicle also has the tallest profile of any tank (though its not the tallest Vehicle as the Pereh beats it) which means its downward gun depression is extremely poor, also it is impossible to use sniper mode while depressing your gun most of the time since your turret/engine deck is blocking your view this also allows certain vehicles to go right next to you and avoid your gun sight as your way to tall. It also doesn't help as your turret traverse is so slow.
Pros and Cons
Pros
Decent health pool
Superb armor protection
Powerful gun
Equipped with underwater fording
Good leveling always matches it up to lower leveled tanks
Cons
Sluggish speed
Impossible to scale sharp inclines
Poor accuracy
Extremely tall profile
Poor gun depression
No smoke grenades
Sluggish turret traverse
Community content is available under
CC-BY-SA
unless otherwise noted.