History
The Tiger II was the successor of the Tiger I, combining the latter's thick armor with the armor sloping used on the Panther medium tank. The tank weighed almost 70 metric tons, was protected by 100 to 180 mm (3.9 to 7.1 in) of armor to the front, and was armed with the long barreled 8.8 cm Kampfwagenkanone 43 L/71 gun. The chassis was also the basis for the Jagdtiger, a turretless tank destroyer. The first combat use of the Tiger II was by the 1st Company of the 503rd Heavy Panzer Battalion (s.H.Pz.Abt. 503) during the Battle of Normandy, opposing Operation Atlantic between Troarn and Demouville on 18 July 1944. Losses were: two from combat, plus the company commander's tank, which became irrecoverably trapped after falling into a bomb crater created during Operation Goodwood. On the Eastern Front, it was first used on 12 August 1944 by the 501st Heavy Panzer Battalion (s.H.Pz.Abt. 501) resisting the Lvov–Sandomierz Offensive. On 15 October 1944, Tiger IIs of the 503rd Heavy Panzer Battalion played a crucial role during Operation Panzerfaust, supporting Otto Skorzeny's troops in taking the Hungarian capital of Budapest, which ensured that the country remained with the Axis until the end of the war. The Tiger II was also present in the four heavy Panzer battalions during the Ardennes Offensive of December 1944, the Soviet Vistula–Oder and East Prussian Offensives in January 1945, the German Lake Balaton Offensive in Hungary in March 1945, the Battle of the Seelow Heights in April 1945, and the Battle of Berlin at the end of the war.
In Game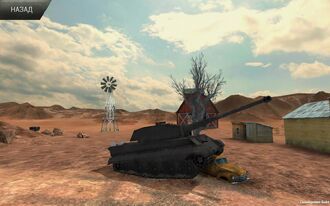 The Tiger II is available for purchase in 2.0. It is one of the most expensive tanks in the game, since it is considered a premium vehicle It is surprisingly agile and durable, but is only suited for battling against other WWII tanks and the starter tanks. It can be fought against in offline mode using a tank near its level.
Pros
Highly maneuverable
Decent reload
Modest armor protection
ConsCons
Can only equip AP and APDS rounds
Tall profile
Poor Accuracy
Community content is available under
CC-BY-SA
unless otherwise noted.