*Hello! This page is missing stock stats! You can help by filling out the accurate stats if you know it!
History
Panther is the common name of a medium tank deployed by Nazi Germany in World War II from mid-1943 to the end of the European war in 1945. It was intended as a counter to the Soviet T-34, and as a replacement for the Panzer III and Panzer IV. While never replacing the latter, it served alongside it and the heavier Tiger tanks until the end of the war. The Panther's excellent combination of firepower, mobility, and protection served as a benchmark for other nations' late war and post-war tank designs, and it is regarded as one of the best tanks of World War II.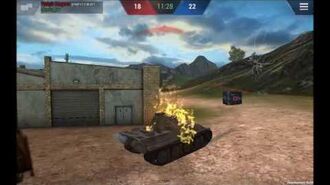 In Game
The Panther cannot be purchased, but can be fought in offline mode using any tank near its level. For players who have earned it though the Panther is a modest vehicle which works as an all roundet for its level, the Panther is equipped with a fast firing potent gun which can dead with light weight opponents easily. The Panther though can only hold up for so long as it lacks any health and is minimally armored.
Pros and Cons
Pros
Fast reload
Equipped with spaced armor
Cons
Low health points
Extremely poor reverse speed
Community content is available under
CC-BY-SA
unless otherwise noted.